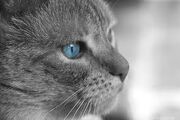 Drizzlestar is a blue-gray she-cat with dark blue eyes and white paws.
Story
Drizzlefeather is Dripstar's fiercely loyal deputy and a MistClan warrior. Her mother is Cherryface and her father is Striketail. Drizzlefeather originally had a half-sister named Tinywing and a brother, Snakefang; they are both dead. However, her mother is still alive and is currently dwelling in the elders' den.
She acquires her second apprentice, Echopaw.
Dripstar dies shortly after an avalanche during a Gathering, and leaves Drizzlefeather as the new MistClan leader.